Often the most valuable data is the data received fastest and Jorin's Process Insight services focuses on providing high quality data, quickly in the field. Using online and field portable tools, Process Insight is a complete consultancy service for oil and gas fluid behaviour during production, sea water injection, waste water treatment and produced water injection projects. These studies encompass various project stages, from conceptual and detailed design to final plant commissioning and operation.
Process Insight is provided by Jorin Ltd. whose employees have experience of oil and gas production and water injection projects in Africa, the North Sea, the Middle East, Asia, North America and South America. This experience includes both offshore and onshore projects and covers heavy oil production, gas production and water injection in seawater, aquifer water, river water and produced water systems.
As Jorin Limited is independent of any chemical supply company Process Insight offers impartial advice on selection and implementation of chemical treatment programmes, in fact many chemical suppliers and equipment designers are among our customers. Our consultants have first hand experience in the selection, use and optimisation of production and water injection chemicals. The Process Insight service can also perform laboratory chemical evaluations.
The production of data in real time allows the customer to react rapidly to process upsets, well changes, production chemistry effects and equipment malfunctions; often programmes that had been scheduled over weeks can be completed in days or even hours. The Process Insight service provides cost effective on site optimisation and future field development plans to maximise revenue and minimise risk.
For specific examples of work we have conducted at site, please take a look at the case studies on either the Oil and Gas or Industrial application pages. You can get in touch by visiting the contact us page if you would like to know any more about what we can do for you.
We believe that our mobile hazardous area analysers have become one of the most critical and practical tools in the analysis and optimisation of produced water treatment systems. This range of portable ViPA analysers with ATEX and NFPA496 conformity allows troubleshooting, trialling and investigation to be made online at site and quickly in way that was never previously possible. Our ViPA analysers are designed to provide:
Oil in Water concentration (ppm)

Total Suspended Solids (ppm)

Oil droplet size distribution

Solid particle size distribution

Gas bubble identification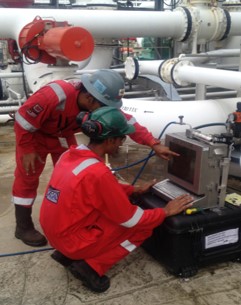 Analytical and Physical Analysis
To supplement the data provided by our analysers, our engineering team can also perform a range of analytical and physical tests at site. A complete and accurate characterisation of fluids is vital for the design and operation of the appropriate fluid treatment packages, and can be used alongside the data from our equipment to fully explain and understand a process. Some of these tests include:
Emulsion Tendency
Full Ionic Analysis
Total Suspended Solids
Dissolved Gases (CO₂, H₂S, O₂)
Scaling Potential
Rheology
Corrosivity