Lab and Safe Area Equipment
Our simplest range of analysers can be used for lab testing, or in areas where hazardous area certification is not required. The two available models currently are the ViPA B and the InVA. Both use a version of our video microscopy setup, and apply our image recognition software to give data on the particles present in the fluid analysed. 
The compact and robust ViPA B analyser is equally at home on a process line, laboratory bench or as a portable field unit. Like all our analysers it is supplied with fully featured control software capable of complex particle analysis and data reporting including serial data output over Modbus TCP/IP. Its stainless steel construction and flow cell rated for continuous use at 120 Bar (1740 PSI/12000 kPa) with the capability to operate with process liquid temperatures of up to 120°C (248˚F) make the analyser ideal for use in harsh environments. Options for higher temperatures and pressures are available on request.
The compact nature of the analyser head allows installation very close to the sample point to ensure the best possible sampling is achieved and the ability to work with flow velocities of up to 5mS‐1 ensure great response to process changes and minimal flow control requirements. There are no upstream sample conditioning required.
ViPA B HiFlo is connected to its control laptop computer by a Gigabit Ethernet link and cable lengths between 5 and 100 metres can be specified to ensure that the laptop and operator can be sited in a safe and convenient location.
Both the analyser and laptop each require their own power supply but the ViPA B can be provided with an internal battery, enabling the ViPA B HiFlo to be used in the field without connection to a local power supply for several hours. This allows easy and flexible investigations to be made at remote locations or at sample points that are used only occasionally. The ViPA B weighs approximately 8 kilogrammes and can be supplied with its laptop in a rugged travel case where portability is critical.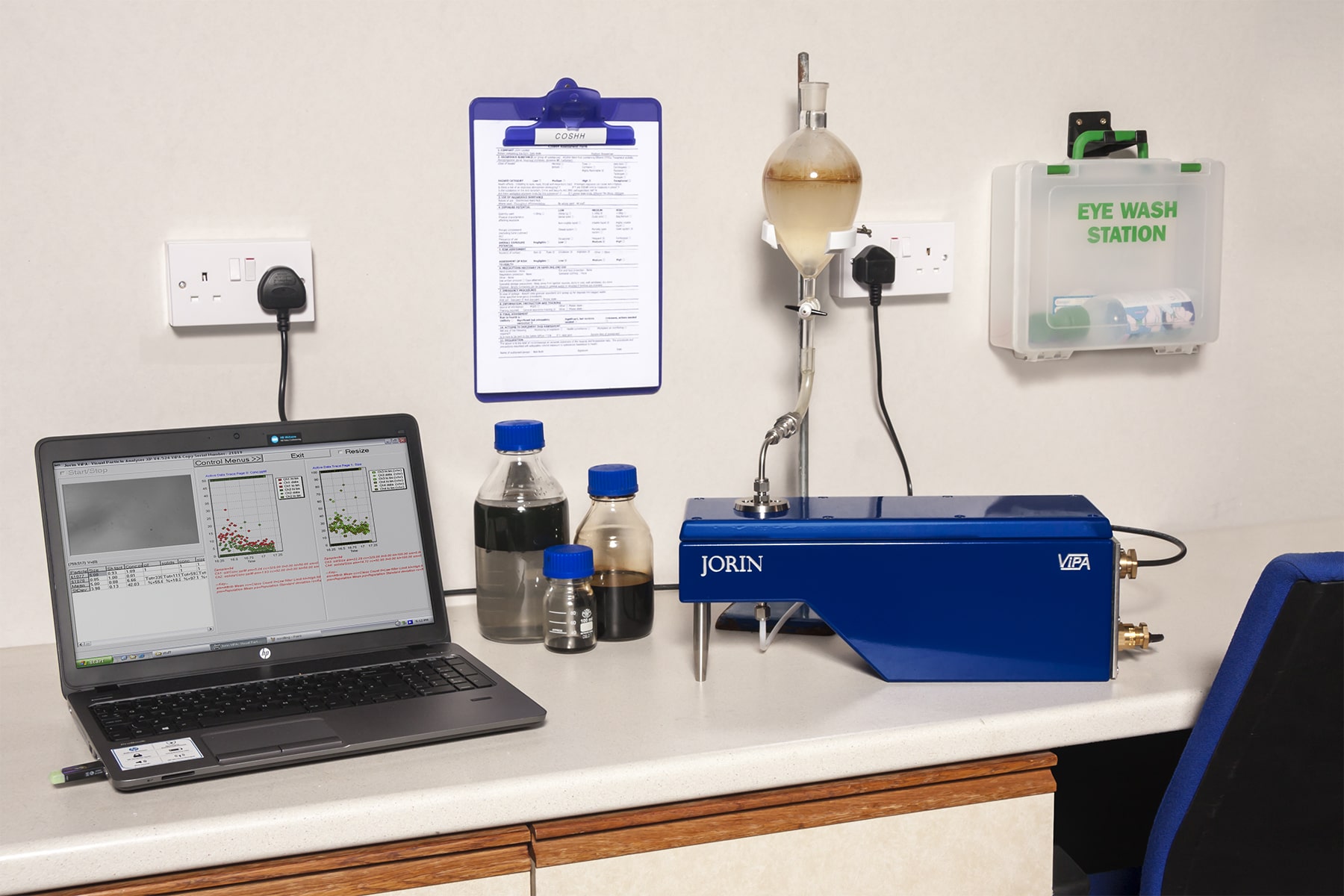 InVA is a single box product operated for simple installation and is entirely operated by touch-screen interface and is pre-configured to be usable straight out of the box without the need for user training.
With a flow cell constructed from 316 stainless steel, sapphire and Viton™ the InVA is rugged and able to cope with real-world on-line process conditions including high fluid temperatures and pressures.
The Jorin InVA uses automated video microscopy to provide enhanced particle data including particle counts, particle size distributions and full differentiation between particulate types, e.g. fluid contaminants and solid particles.
Using image analysis techniques to differentiate between particles, droplets and gas bubbles the InVA can differentiate between types of particle and record particle counts, size distributions and concentrations.